Hi, everyone!!!
Genki de su ka? Hope so.... :)
I'm really happy.
1st, I've just passed my graduation ceremony, received my diploma, and it means all my university stuffs are done. Well, I still have a research contract with my professor, but it's considered as 'work' right?
2nd, finally NEW ALBUM announced!!!
Can you imagined it, yesterday at 9 a.m. I opened arashi_on page to check arashigoto and the news was not available yet. I keep checking for about 2-3 times after that. Wandering around through an Arashians forum, someone says that a new album will be out on July! (Probably around 11 a.m) But no...it's not that easy to believe that, since I have bitter experience once on April Mop when the news of Arashi will be released a movie on summer spread. I didn't even realized that it was April 1st. So I go googling as usual, but not found anything except Lotus releasing announcement. Fine then, I'll go check arashi_on, I thought.
Then... yatta! I found this great post http://aishitsuzukeru.livejournal.com/
164389.html. So it's been decided that Arashi will be released an album on July 6th following the Scene Dome DVD on June 15th.Well, I suppose all of us already know that.
No, it's not that I'm gonna buy both (well...except I receive GREAT FORTUNE sooner :P). Right now, I set my eye on the album (haven't PO-ed yet, but let's see...). I already spent my salary from research I mentioned before for...external HD. It spent more than half of my money, actually. But it's worthed and about time, I think. My notebook HD is almost full and considering I still have a lot of works which will be consumed more HD space then the decision I made can be well accepted (for my wallet :) ). Now I have my research, one design order, and one programming project order. My hands quite full actually. Besides, I'm still searching for job. I really hoping my sister can spare the cost to buy the album together with me....(please, sis)
Well, I know, I know....my journals is not that merry, but hey! I also want to contribute to the community! So here I present you with some bonuses. My hands are full, but at those times idea come up without any warning and I ended up making some wallpaper calendar.
A gift for Nino's fans, since June is Nino's month so I made a special Nino wallcal.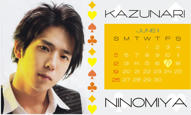 Resolution : 1280x768
Spotlight : Nino
Month : June
Theme : Yellow, Cards
Scan credits : awesome anj!
Another one is Arashi, for June only.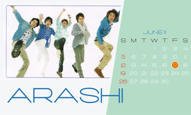 Resolution : 1280x768
Spotlight : Arashi
Month : June
Theme : Blue, Light Grey
Scan credits : anj again..
One more is Arashi from the backside (ooh..what a great back they have! For me they're really georgeous from this kind of view!)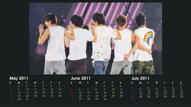 Resolution :
1280x720
,
1920x1080
Spotlight : Arashi
Month : May, June, July
Theme : Black, Deep Purple, Scene concert
Scan credits : anj!
Feel free to tell me if the images/links doesn't working. Since this is my first time sharing wallpaper calendar and my monitor is HD so I can only check it for HD, I also open for request to those who want different resolution, just leaving comment here about the resolution you want.
And...what about the designs? Lately I like something simple, but maybe these are too simple for some people? Speak out, please :)
Enjoy!!!
N.B. Ahhh... I almost forget to say that I put high expectation for Time Capsule performance 'cause I love that song too much lately. I even thinking of make a fanvid for the song...